Yes, you read that correctly--my friend and I are going to delve into the wonderful world of shoemaking! Armed with reproductions of the book
Every Lady Her Own Shoemaker
and many varied supplies, we are setting off to encounter the seldom-charted land of cobbling.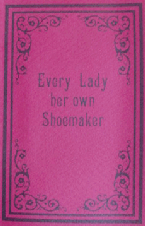 Now, as you might have already guessed, this isn't a one-woman job. My dear friend Hannah (who may be making some guest blog posts soon) came up with the idea to start off, and I decided to run with it. Because, who doesn't want a pair of custom-made reproduction shoes that you don't have to pay out of the nose for! I know it's going to be difficult, but I think I'm up to the challenge. It will definitely be an adventure and a lovely one, at that. If you follow me on my
Pinterest
, you'll notice that I've been pinning a few shoes here and there. Now that the sole leather for my shoes has
officially
been ordered, I can now begin to plan! There are so many gorgeous shoes that I want to reproduce. I shall leave you with a few of them from the Regency and Civil War eras, for those are the ones I'd like to reproduce. Enjoy!
I absolutely love slippers that have ribbons to lace up the ankles. These shoes, from 1812, are my special favorites because they feature a square toe (the lasts that I have are square-toed) and they can kind of be worn for Civil War, if I'm sneaky :) I'd be making these out of silk taffeta, lined in linen and bound with silk ribbon.
Another gorgeous green Regency shoe :) These are from 1818 and are a very simple but classic style. If I was to reproduce these, I'd most likely leave off the fringe.
I absolutely adore these shoes! Now, I'm not one for the extreme point of some Regency shoes, but the lacing on these and the slight heel just make me want to swoon!
Another gorgeous pair of Regency slippers, also from 1812. I love the bows on these! I will definitely be drawing inspiration from them.
I LOVE these Regency sandals! I have no idea how I would get the pattern correct, so it's definitely low on my list, but I need a pair of these. They are just so stinkin' adorable!
These 1860's button boots are Hannah's particular favorite, and once we get the process down we are definitely going to try them out. And who can blame her? They're gorgeous!
These are a very good example of a typical side-lacing 1860's boot. These are made in silk taffeta with leather foxing at the toe and heel. The pattern for shoes like these are in the book, Every Lady Her Own Shoemaker, so likely they will be the first or second shoes that we try.
1860's red leather slippers. These are my particular favorite because they have the side seam seen in a lot of Regency shoes, so making a pair like this would kinda-sorta-not-really-don't-quote-me-on-it okay for both time periods. These will most likely be the first or second shoes that we reproduce because both Hannah and I need PC shoes for Civil War balls (we both already have reproduction boots).
And finally, the most gorgeous pair... cotton sateen boots from 1865. I absolutely love the foxing, the slight heel, and the rosettes at the toes. I must attempt these!